*2019* STARS & STRIPES PIN UP SESSIONS
please read carefully:  2018 STARS & STRIPES SESSIONS ARE OVER...GET ON THE *2019* WAITING LIST
DIFFERENT, FUN & UNEXPECTEDLY INDULGENT   In Studio - Stars & Stripes Pin Up Sessions FOR 2019
The older I get the more I love the classic 50s look. The clothing silhouettes celebrated a woman's curves and the make up and hair was so elegant.

These sessions combine two (well three if you count photography) of my favorite things: the Pin Up look and July 4th - in these STARS & STRIPES PIN UP SESSIONS.

You've missed the July 4th Stars & Stripes Pin Up Session for 2018 but if you book now to get on the waiting list for next year (sessions are scheduled in June) YOU'LL GET A COMPLIMENTARY 1 HR IN-STUDIO PORTRAIT SESSION NOW.  
Some restrictions apply.  
Here's how it works:  Reserve your spot for a 2019 Stars & Stripes Pin Up Session and you'll get a free 1 hr In-Studio Session now but your free session must be completed by September 2018.  What comes with the complimentary session?  One 12" metal print + it's complimentary digital file with permission to print it up to 10".  There are no refunds.

WARDROBE AVAILABLE

Click the button below to reserve your spot for 2019.
About the Photographer
Hello!  I'm Annabel Valencia, owner of Valencia Photography.
Visage Portraits is the portrait branch of Valencia Photography, to clear things up.
I've been photographing for over 20 years.  
This is not my HOBBY; this is my JOBBY, so I will take care of you.
I believe wholeheartedly in the POWER of professional photography - the feeling that a woman gets when she is pampered and respected and the awesome boost of confidence that a large and beautifully made wall portrait hanging on the wall of your home can bring each and every day.  If you don't believe me, just as Kitty (Karen), the woman featured in these Pin Up photos.
---
SO ARE YOU FEELING FUN & ADVENTUROUS?
All *2019* Stars & Stripes Pin Up sessions will be done at my home studio. They'll all be done in good taste.   Trust me, nothing raunchy is coming out of my studio!
Book a *2019* Pin Up session by yourself or get one of your BFFs to book a session with you. It will be a blast!
Your *2019* Stars & Stripes Pin Up session will be up to 3 hrs, includes hair & make up and a 12" metal print.

Kitty (above), local mail carrier and yoga enthusiast
Kitty is 48 years young and celebrating losing 70 lbs.!
She knows exactly where my studio is, being that she's a local mail carrier.
---
LOCATION OF SESSIONS:
Valencia Photography Private Home Studio in Lawton, OK

 On the west side in Eisenhower Village off 67th
Specific directions will be given upon booking or you can Google it.
In addition to your included 12" metal print, you'll have the opportunity to add wall art, albums, or digital collections to your order.

WALL ART
Wall art is what I call a WOW product.  When your friends or family visit your home they'll be so impressed with a big beautiful portrait on the wall.  And each and every time you see it you'll get the warm & fuzzies.
Starts at $275 framed and installed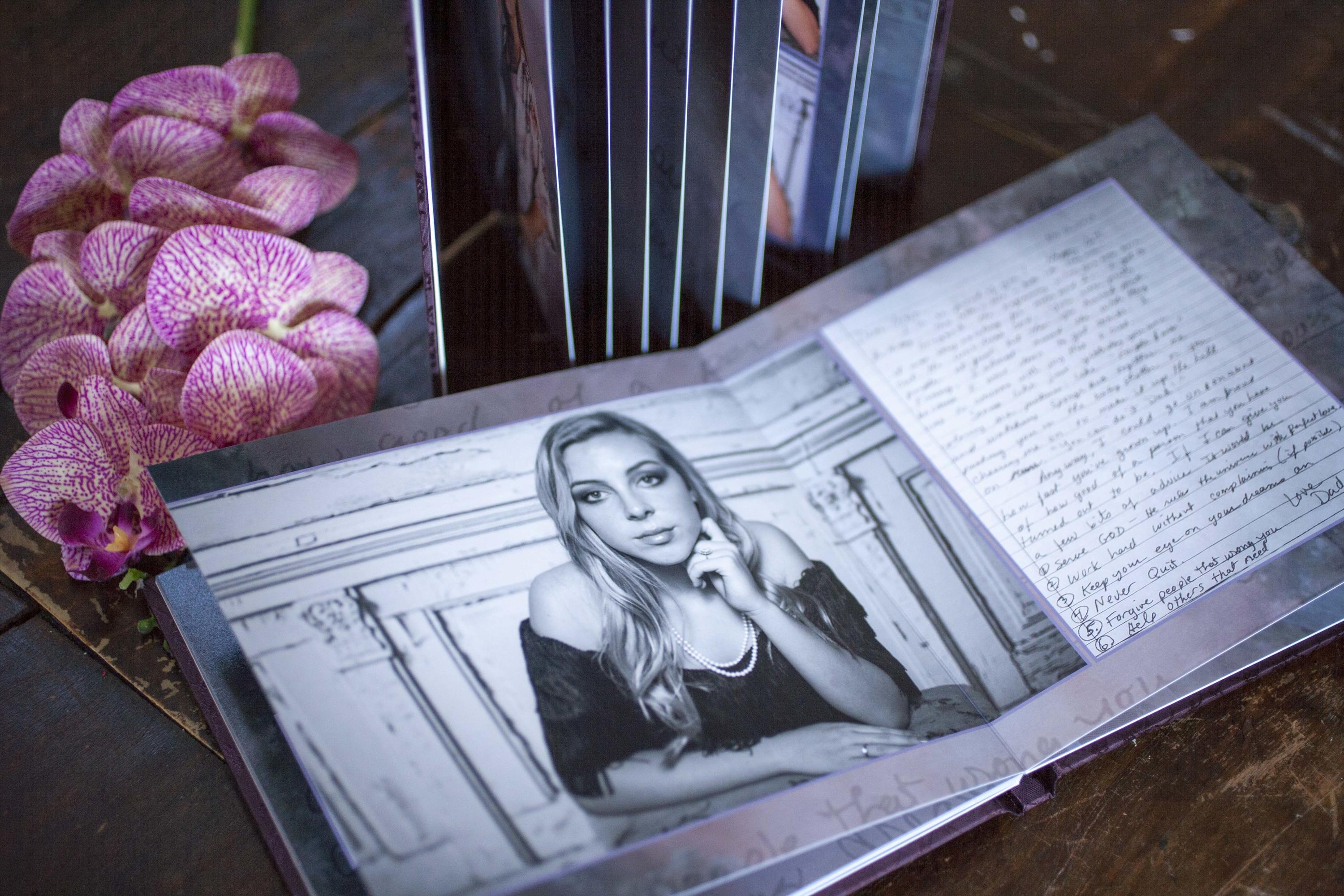 ALBUMS
Albums are what I call KEEPSAKES.  They're not meant for full out display like wall art is.  An album is meant to be hidden away, like an old photo in a little locket.  It's special, even secret.  OR you can leave it out on your coffee table (if you don't have littles running around).
Starting at $450
DIGITAL COLLECTIONS
At Visage Portraits (the portrait branch of Valencia Photography) no digital file leaves the studio without an accompanying print, because that's how strongly I believe in art that is printed for you to hold in your hands.  
Starting at $650
GIFT PRINTS
10" and under; printed on fine archival paper and mounted on matte board, these prints are rugged and coated with a protective layer.  *Example above is a collection of prints inside a keepsake box - a modern alternative to an album.
Starting at $47
*2019* Stars & Stripes Pin Up Sessions
Reserve your spot today for $99. Book online. Instantly.
Plus get a complimentary 1 hr In-Studio Portrait Session now
Click the button below to reserve your spot in 2019

I'll be in touch with you to schedule your extra complimentary session soon!
Video - Kitty's fun Stars & Stripes Pin Up Session was a blast!
The story behind these sessions:
Back in April I did some fun Pin Up style photos at the Trykes N Tread Car Show.  Have you ever been?  It's put on every year by the Mountain Metro AMBUCS.  This is where I got the idea to offer some Pin Up sessions at my home studio, where there won't be random people and cars in the background.